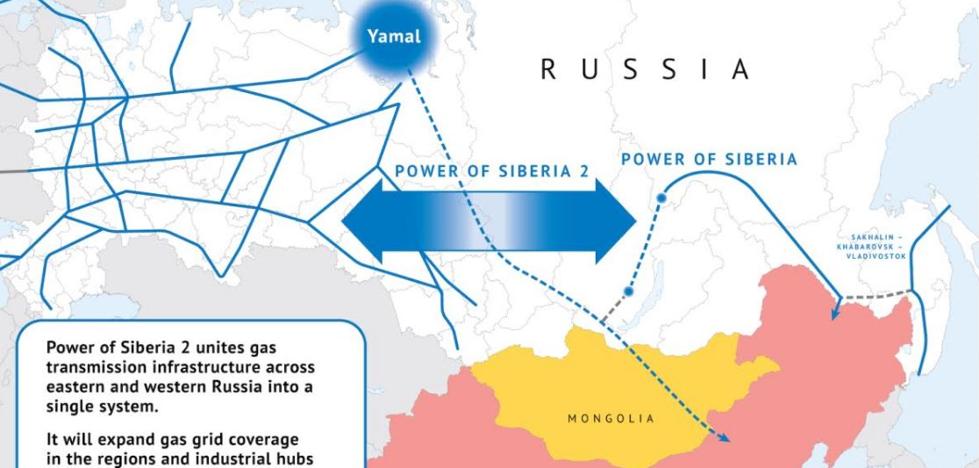 The Asian giant liquefies the gas coming by tube at a very cheap price and resells it in gas tankers, plus the additional liquefied gas it receives from Moscow.
Vladimir Putin finances the invasion of Ukraine with the export of fossil fuels. Europe has been its main customer, especially natural gas – last year it supplied 45% of the continent's consumption – but the closure of the Nord Stream 1 gas pipeline has led to political tensions and the possibility that sanctions will also be imposed. This trade is difficult and threatens to end it. So Russia seeks alternative customers, and China seems to be the most logical: it is a growing giant that needs energy and that does not condemn or punish Russian 'special military operations'.
The relationship has consolidated and is approaching its current operating maximum. In the first half of the year, China increased the amount of gas imported from Russia by 63.4%, the value of which tripled to $2,390 million. All this despite the fact that there is only one gas pipeline between the two powers: Siberia's power, inaugurated in December 2019 with a capacity to supply 38,000 million cubic meters (38 bcm) per year. This volume will be reached in 2025 for that connection, which is planned to open on October 25 through a new connector in Eastern Siberia, but this year it is expected that the gas pipeline will supply only 16 BCM.
The plan includes a commitment between the presidents of Russia, China and Mongolia a few days ago to build the power of Siberia 2 with a capacity of 50 bcm, which will serve to divert the China portion of the gas extracted from Yamal. , in Western Siberia, and which currently supplies Europe via Nord Stream 1. If forecasts are correct, by 2030 Russia could send more than 100 BCM of natural gas to China, two-thirds of the 155 BCM sold to Europe last year.
However, various experts argue that despite being a net importer of this fuel, China does not require such quantity. And he explains the business he is doing. Because everything points to the fact that a part of this increase in Russian gas imports, bought at bargain prices due to the current situation, ends up in other countries scratching their pockets a lot. Not in vain, between January and August 2022, China exported liquefied gas (LNG) worth $448 million. They are 64 times more than in 2021, and according to Chinese customs data, 164 million were destined for European countries, including Spain. Thanks to its regasification capacity and location for large gas tankers, the port of Bilbao is the infrastructure in the country that unloads the most LNG and the third in the world that receives the most from Russia.
China has regasification plants in the north-east of the country, where Siberia's power ends, and can redirect excess gas purchased from Russia in liquefied form or to liquidate gas that comes in gaseous form. can cool down. This makes it impossible for the destination country to know the origin of the fuel, as it may also be mixed with the one arriving from Qatar. Thus, so far this year, Chinese companies have sold at least 4 million tonnes of LNG overseas, equivalent to 7% of Europe's consumption. Only Jovo Group has admitted to selling $100 million to a European customer, and Sinopec has sent at least 45 gas tankers.
"So it is China, not Russia, that takes additional advantage from the resale of gas," Anna Mikulska from the Center for Energy Studies at Rice University explained to the German chain Deutsche Welle that China charges for what it pays for. That's twice as much gas. "And there's nothing Europe can do other than cut off purchases from China, which could lead to a severe winter supply crunch," Mikulska said.