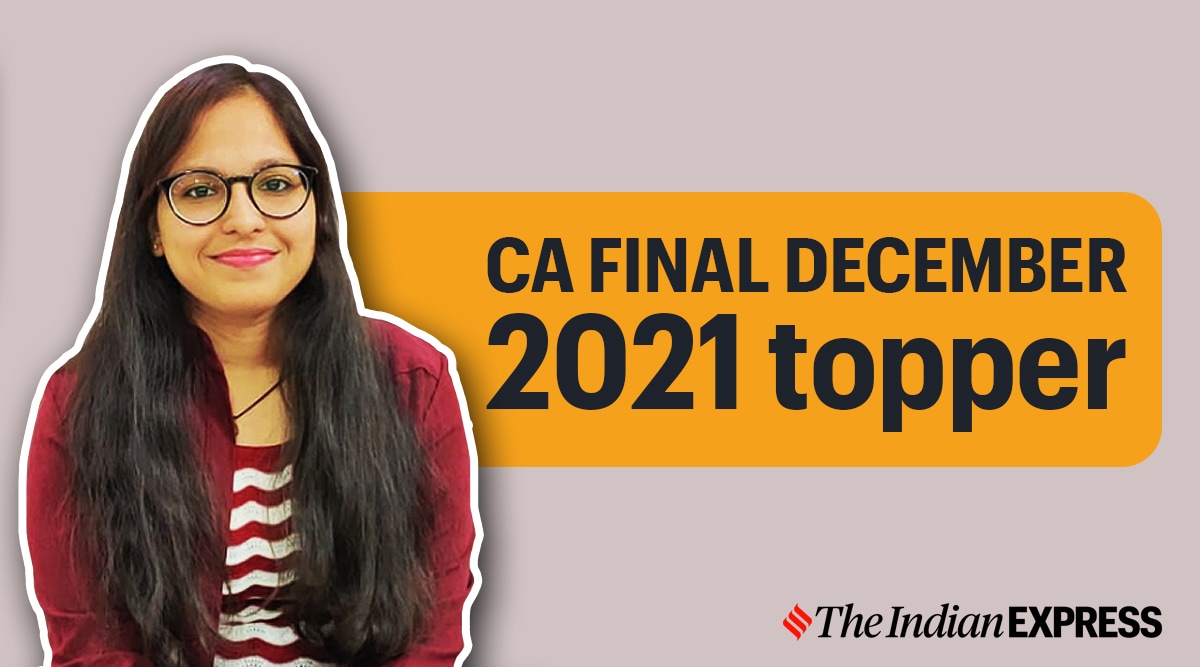 Daughter of a textile trader from Surat, 22-year-old Radhika Beriwala topped the Chartered Accountancy finals (new course), results of which were declared by the Institute of Chartered Accountants of India (ICAI) Thursday.
She was among the four from Gujarat who were among the top 50 ranks, of which three are from Ahmedabad.
From Ahmedabad, Saloni Gulechha who is originally from Surat, secured sixth rank while Kamlesh Gupta secured 33 and Bhautikkumar Jakhaniya, originally from Botad district, secured rank 48.
The four students have a common aim — crack the the Common Admission Test (CAT) exams and pursue MBA.
The Beriwala home had another reason to celebrate as Radhika's younger brother Ansu cleared his CA foundation course, results of which were also announced Thursday.
All for physical classes, Radhika told The Indian Express, "In the offline classes, we can raise our doubts before the coaching faculty members but online classes are marred by connectivity issues. Another major issue is the mobile screen is too small and does not help us concentrate well."
She recalls how she had a standard practice of calling up her tutor after every online class during the pandemic, to get doubts cleared.
"Weekdays were spent on studying and weekends for revision. I am thankful to my parents, grandparents and my coaching centre. I am the first in my family and relatives to do CA," said Radhika from Jhunjhunu in Rajasthan, where the family is attending a wedding.
Radhika Beriwala with her family. (Photo: Special Arrangements)
Radhika's father Chauthmal  Beriwala and mother Asha came to Surat from Jhunjhunu  around 23 years ago and started a small business of textile trading from a rented premises.
After his business took off, they bought a house in City Light area where the family lives with Beriwala's parents.
Radhika who studied in CBSE school Agrawal Vidya Vihar, scored  96 per cent marks in Class 12 and graduated from SD Jain College with 80 per cent marks.
She started training under CA Chhavchharia Coaching Institute in Surat, and cleared her foundation course, emerging class topper.
In the second level of CA Intermediate (new syllabus), she got second rank and in the CA final, she secured 640 out of 800 marks.
"I want to pursue further studies from IIM and I'm confident of cracking CAT," she told this paper.
Her coaching centre head CA Ravi Chhavchharia of Surat, said, "She was a sincere student and never missed a single online class… She would call up the faculty to clear doubts."
Saloni (22), who is also preparing for CAT, said she wants to do an MBA as it would help her "grow, strategise finance and combined with business management" it can help her "guide clients in a better way".
"Nowadays, people are looking at a combination of CA and MBA as they do not want to restrict themselves in accountancy but want to do management consultancy as well," she told The Indian Express.
Originally from Surat, she just completed her graduation in commerce from Ahmedabad.  "My family is in Surat and I was staying with my relatives in Ahmedabad for my graduation," she added.
Kamlesh Gupta (22), resident of Ahmedabad who just completed his graduation is aiming at Indian Institute of Management Ahmedabad (IIM-A).
"MBA adds better opportunities as it is a proven fact that CA with MBA degrees land good managerial posts in MNCs. In any case, CA is better than doing a graduation course like B Com. Following my brother's advice who himself is a practicing CA, I am preparing to get into MBA," said Kamlesh.
Bhautik Jakhaniya (22), who hails from Botad, has been living in Ahmedabad with his mother who shifted with him for his studies.
Pursuing his final year MCom, Bhautik says, "CA is enough but other professional courses like MBA add value — both in knowledge and pay packages. This is one of the reasons students prefer to combine CA with MBA."
The result shared by Ahmedabad branch of the Indian Institute of Chartered Accountants (ICAI) revealed that the Ahmedabad centre result is 39.25 per cent against an all India result of 15.31 per cent in CA final.
Harit Dhariwal, Chairman, Indian Institute of Chartered Accountants (ICAI), said, "In CA final, 800 students from both the groups appeared in the exam and 314 students passed — a pass percentage of 39.25. In group 1, 628 students appeared for the exam of which 160 passed, a pass percentage of 25.48 per cent and in group 2, 785 students appeared of which 243 cleared the exam, a pass percentage of 30.96."
"This year in CA final a total of 28,988 students from both groups from across the country appeared for the exam in which 4437 students passed,"