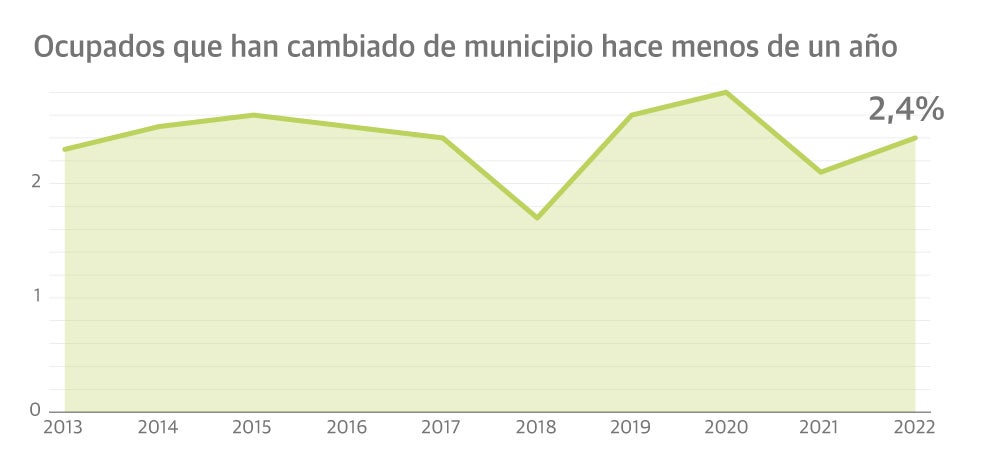 Spaniards also do not like to change residence due to work reasons. Even if they don't have a job. In fact, barely 4% of the unemployed, just over 127,000 of the more than 3.1 million unemployed registered in the first quarter of 2022, changed their municipality of residence in the past year, while more than 2.5 million, nearly 80% of 2022. Totals, along with first-quarter data, have not moved for at least five years, according to Labor and Geographic Mobility Statistics published this Friday by INE.
However, it should be noted that this is a higher percentage than the previous year, when only 3.5% of the unemployed moved to the place of residence in search of a job and sharply cut the upward trend experienced in previous years. The pandemic was behind this pause, but now, once any restrictions are lifted, it has not returned to the levels before the health crisis: in 2020, the maximum was reached at 4.7%.
In addition, about three out of every ten people who were unemployed have not changed their place of residence since they were born. Specifically, over 900,000 unemployed, 28.9% of the total.
But even less is the percentage of employed people who moved to another municipality in the past year: only 2.4% (less than half a million out of 20 million associates), and even the majority of them did a done within the same province. Labor mobility among workers has also increased, but continues to set a minimum, only three tenths, and the lowest in recent years, with the exception of 2021 due to the impact of COVID.
In contrast, more than 16.7 million employed persons (83.5%) have been living in the same municipality for at least five years. In fact, practically three out of ten have never changed their place of residence since their birth. Most of those who have taken the step of relocating, choose it closer to their origin. Thus, 40.8% have changed municipalities within the same province, 4.1% came from another province but from the same autonomous community, while 13.5% came from another community and 11.9% from another country.
Logically, mobility is higher among young people and 231,300 workers under the age of 35 (4.8% of the total) have moved from another municipality in the past year, while only 0.9% of those over the age of 35 are over 55. are older. Stability in employment is important, given the fact that those who have temporary contracts are more willing to change: 3.4% have moved in the past year compared to 2.2% who are permanent. Similarly, mobility is related to seniority: those who have been at their company for more than six years have barely moved (1.3%), while it quadrupled (5.2%) among those who have been less than a year. have been in your company for. at your current job
Similarly, the level of mobility among foreign workers increased markedly: 5.9% changed their place of residence in the past twelve months, compared to 1.9% of Spaniards. And the same happens with unemployed immigrants: 9.8% have moved to another municipality in the past year, while only 2.5% of Spanish are unemployed.