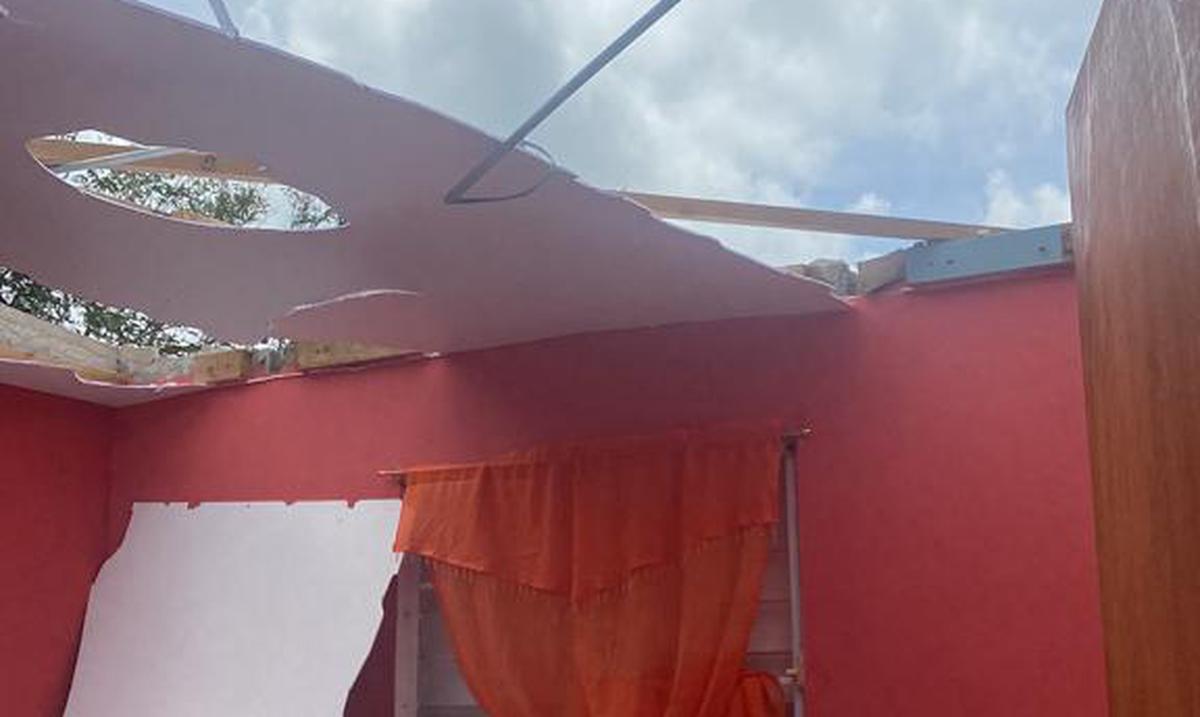 Publisher's note: We invite you to stay well informed during this emergency. Free access to all news and updates related to the passage of Hurricane Fiona For Puerto Rico. Thank you for supporting responsible journalism. Sign up today.
Three days ago we finally had the opportunity to climb the mountains of Penuelas and see what the people of the community with whom we collaborated on a project of educational and socio-emotional support for children two years ago were doing . we already had days of great sadness and worry Because we had heard from the community leaders that there was destruction and the roads were dangerous. This was my fear because Fiona not only brought a lot of rain, but also fell on top of months of incessant rain in the mountains, which is unusual. The climate crisis has changed rainfall patterns and Fiona was literally "raining rain" on already vulnerable land. Our fear was not for us, but for the community and the people living in that area because The condition of the roads puts their lives at risk And complicates tasks like looking for gasoline. Also it is difficult and even impossible to reach some emergency services in these circumstances (such as access to an ambulance).
We started the day by filling up the trunk as much as we could. We knew this would be the first of many trips. We left for Penuelas from San Germán and immediately realized that the telephone signal from Guánica was almost as inaccessible as it was after Maria. The difference is that there were some "pockets" along the way where all the accumulated messages from people coordinating services for multiple needs or from our families who wanted to know how we were reaching us.
Upon reaching Penuelas, we could already see some landslides in the mountains, but nothing that worried us. When we started climbing the mountain we understood the magnitude of the landslide and the needs of the people living there, We decided to stay at the homes of families we didn't know because on a typical Saturday, they were homes passed by the community.
We talk to two women in two different houses. One was drawing water from her house, which flooded the inside and damaged some of her belongings. She told us that she lived with several children, including an adult daughter with special needs. He was still taking the list of needs, so we let him buy it and we keep his information to monitor his needs. Then we went to another family's house. There we were received by a very kind lady who proceeded to escort us to her house so that we could see the devastation in her house. He lost his roof and in the process all his belongings, This was the second time he had lost his roof, Maria being the first. Moreover, his house had caught fire in recent years which affected him too. Although we have made a list of your needs The most important thing for him was to listen to him and cry with him because of his pain, For their desperation, for the too-repeating situation, and for the helplessness.
From there we went to the homes of three teenagers who are part of our project. We were already in greater fear and emotional fragility than the woman we were leaving behind and because we already knew that the next family to arrive had to leave their home in the middle of the storm to seek refuge in a place Can you Not suitable to guarantee their safety. .. we reached his house We hugged each other, we cried looking at each other, we listened to them. There are three houses, all members of the family, and at least one of them was affected by leaks that cause fungal problems and weaken the delicate structure.
This family, and families across this region in Penuelas, have another problem and that is They have no drinking water for more than two decades, They are in a fight with the government to fix the water processing plant that supplies them. They don't even have dirty water after Fiona. The water at least doesn't come clean and also deals with fungus and mud. You can imagine? There are families in Puerto Rico whose homes have not had drinking water for decades. It sounds like the story of third world countries that some despise so much, but it is the reality of many families who bear the burden of this violence. We left with hugs, expressions of gratitude, tears and deep concern for the physical and emotional health of the teens and their families.
Coming out from there we saw clouds of rain and realized that if we did not move forward, we would not be able to reach the community. We decided not to stop at other houses on the way today, although seeing them we knew we had to return to their aid. The road to the community was filled with landslides, stones on the road, mud, parts of semi-collapsed roads. The municipality had already cleared all this a bit.
We come to the community. Between the hugs and shy smiles that hide the kind you know wounds, we chat about the repeated traumas Fiona is closest to. The accommodation was relatively good. But everything already mentioned needed a lot of things that were hard to access, Landslide occurred in the community and hence is a matter of concern, as there is talk that more rains are going to happen in the coming days. They had water from a community aqueduct, but we don't know its quality, which is definitely affected by wastewater from streams and ash deposits in the water reservoir that affects not only the water but that land. also affects where it is cultivated.
Childhood was shy and quiet. There are no communal entertainment spaces in the community. The nearest park is 25 minutes away from there. Internet signal is bad. This makes other forms of entertainment difficult. Community elders resign because they have suffered greatly from the climate crisis and government apathy since Maria. Nothing done to strengthen infrastructure or make services more accessible in five years, In five years no one thought of building a community center that would serve as a refuge and a place to provide other services to the community.
We left with a commitment to return and fear of more rain or some other climate event in the coming months. We omitted the lyrics made of emotional health because, as the mind song says, "the rain doesn't stop," literally and symbolically. On the wet rain on the ground and the emotional well being of these people who seem to have been forgotten by the state, who does not believe in the climate crisis and who does not know that its role is to protect everyone's lives and make quality services accessible, not only to those living in the metro area but also to those living in the mountains. , It rains when we get wet and as long as the rain continues we sink slowly, some faster than others.
Read more:
San Juan after Fiona: A Tale of Two Cities, by Paul Figueroa
Hurricane Fiona: Solidarity and Activism from the Diaspora, by Arlene Davila
Naked Government, Johnny F. by Rulan Schmidt
Beyond Resilience: A Country in Continuous Improvement by Lilium Pabon
The Destruction of Fiona: Another Consequence of Climate Change by Edwin Hernandez Delgados