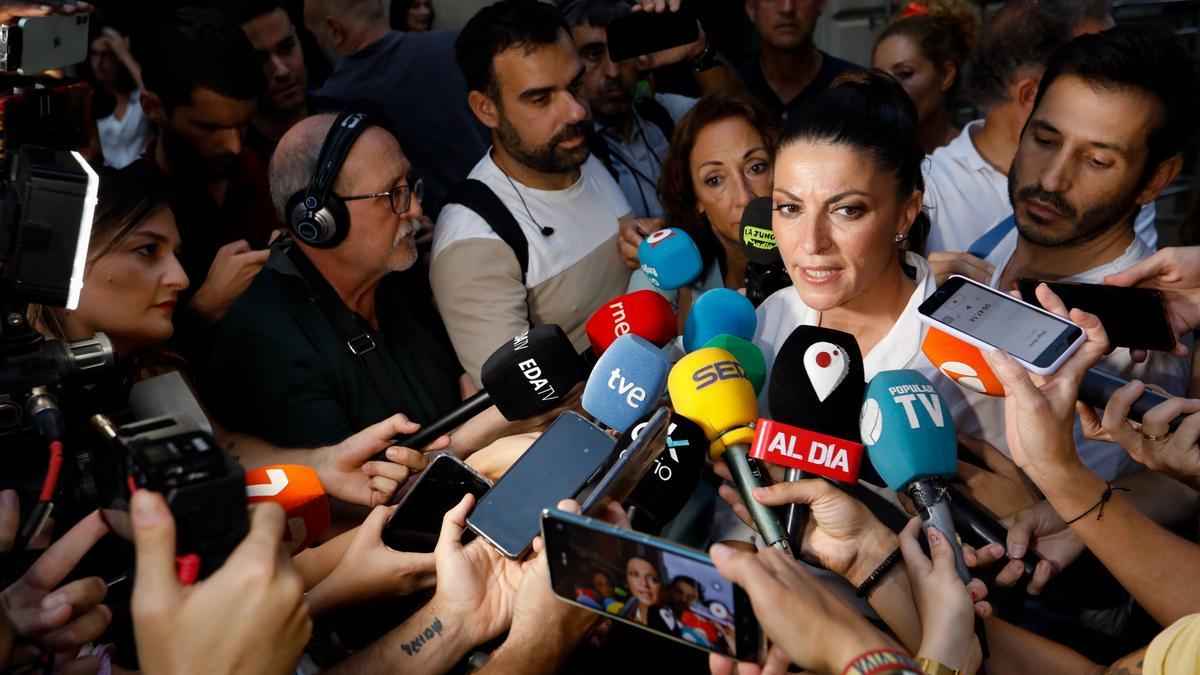 Already detached from Vox, Macarena Olona has landed in Murcia, and she has not done so with the best of receptions. The former deputy from Abascal's party – who has ruled out creating her own formation for now because it would only serve to "fragment" – has arrived in the Region to give a lecture this Friday at the University of Murcia.
Olona, ​​a former candidate for Vox in Andalusia, said that she would defend Spain "walking it through" if necessary, and walking through the Plaza de la Mercedwhere has she been escorted, found herself surrounded by a crowd of people who has received her shouting from "outside". There were at least fifty people summoned by the Student Assembly of Murcia, who peacefully ended the meeting without going further than the escrache that tried to prevent the conference.
It is not the first time that the former spokesperson for the formation in Congress has faced such a situation. Just a week ago something similar happened to him in Granada, where he was the subject of an escrache at the University. He has come to the UMU to talk about "the rights of all Spaniards, who walk Spain with both feet, the right and the left", he declared: "This is how progress is made, defending freedom and respect as pillars of coexistence."
Olona took the opportunity to underline that he will not lead any party "despite having the funding that I appreciate and having listened to the voices that have asked me to step forward, and despite being able to do so." Of course, he added: "I am not going to anticipate events, but if at any time Vox ceases to be an alternative government, I am available to the Spanish to take a step forward because without a doubt the flags that vox flies today are necessary for Spain".
Related news
"It will be the Spaniards who tell me when I go home, so I continue with the path that I had traced and that I aspired to travel together with Vox, and I continue by my side without being a threat to Vox, to whom I can only wish the best because I have no intention of harming him", he also said before beginning the act.
He has not finished without throwing a dart at the party of which he is no longer a part, when he has said that he wishes the greatest success "to those who are activating the meat-grinding machinery."