Welcome to the first episode of "The Latinx Files Love Song Dedication Show." I'm your host, DJ Taquero Mucho, coming to you live from Con Safos Studios. We're a few days away from Valentine's Day, so we're turning it over to our listeners for the next two hours. Have a special someone you'd like to dedicate a song to? Don't be shy! Our lines are open!
— Robert from Sacramento: I'd like to dedicate "Me and You" by Brenton Wood to my wife, Kristin. Forever and forever, my love. To the moon and back!
— Erick Huerta from Boyle Heights: I want to dedicate "I'm Your Puppet" by James & Bobby Purify to my ruca, Marisol Ramos. Let's go get tacos!
— Kay from Pomona: I'd like to dedicate "I will never get tired of you" by Rocio Dúrcal to my hubs who is overdue on learning to speak Spanish but knows to appreciate a Rocío Dúrcal song. He's been my rock & he has been especially supportive after an immensely tough year.
— Carlos A. from Bassett High: I want to send this dedication to Angie C. at Baldwin Park High with a duet by Lionel and Diana, "Endless Love." Baby, two is always better than one and the whole greater than the sum of its parts.
— Christian Andrade from El Chuco, Texas: I want to dedicate this song to my Lady La Pammy from Soco, Texas. "That's How Strong My Love Is" by Otis Redding. Greetings for my race in Juaritos!
— Tony from San Marcos, Calif.: I want to send "My Reason for Being" by Banda MS to Nathalie, from her Ace. You make my life have more meaning. You make me want to be with you every day!
— Karina Santellano from Los Angeles: I want to dedicate "Adorn" by Miguel to Jose Martinez in Long Beach. Happy VDay, honeybun!
— Miguel from Anaheim: I want to dedicate "Anniversary" by Tony! Tony! Tone! to my ride or die lobita, Gladys from Norwalk! Six years, two little ones and a lot of amazing memories in between! I love you, my chula!
— Agueda from Washington state: Although we are separated by more than 4 thousand kilometers, our love crosses all kinds of borders! I love you Javi, my cool meketrefe! I want to dedicate "I always looked for you" by Monocordio.
— Karen G. from Los Angeles: "Love, Love of My Loves" by Natalia Lafourcade & Devendra Bandart. For Sam. My best friend, my headache, and my love!
— Ivan from Rialto, Calif.: I want to dedicate "Weak for Your Love" by Thee Sacred Souls to Mariah in Highland Park. I love you so much, kitty.
— Wiso Vazquez from Phoenix: I want to dedicate "I Forgot Again" By Juan Gabriel to Carlos Vela. Oh how I miss you in the Mexican national team.
— Luis from Laredo, Texas: I dedicate "I will always love you" by Caliber 50 to my sonja Battling!! Love you!! Y "Eternal Love" by Juan Gabriel to my Tia Rosa, who is one year old and passed away on Friday. I love and miss you, aunt.
— Elda Cantú from the borderland: Put it on "I Can't Stop Loving You" by Freddy Fender To dance close with my love. And to all my cousins ​​from Mission to Brownsville, "My Golden Piquito" by Ramón Ayala!
— Misael Galdámez from Los Angeles: I want to dedicate "La Canci´ón" by J Balvín and Bad Bunny to my wife, Alex. The first time she heard that song, she asked, "Are they saying 'good drunk?'" and I haven't stopped laughing or roasting her since. The song ain't the same anymore since you. Love you Alex!
— Natalia Contreras from Austin, Texas: I want to dedicate "La Santa" by Bad Bunny and Daddy Yankee for my aunt Minnie this Valentine's Day 🥰️. Because although she plays the saint, she loves perreo. 🙃
— Audrey Dow from Hacienda Heights: I'd like to dedicate "On a Sunday Afternoon" by A Lighter Shade of Brown to my homegirls Nadia, Kerry & Kristen. Happy Galentine's Day, girls! Let's chill at the park and get some carne asada on the grill!
— Robert from McAllen, Texas, but missing Mesilla, NM: I'd like to make a special request to hear "Taste of Me" by Eydie Gorme and Trio Panchos for my babe, Rachel, who always knows what I'm thinking. I love you so much babe!
— Hector from DC: and I want to dedicate "One Morning" by José José to my wife, Michelle. She works her butt off in med school every day and I feel so lucky to wake up next to her each morning!
— Gloria M. from Pharr, Texas: I want to dedicate "Little Heart" by Pedro Infante for my partner in good and bad. Love you!
— Aaron E. Sanchez from Texas: My grandfather swore the first time he saw my grandmother from across the ballroom at a quinceañera in Juárez, he was in love. Every chance he got from her, he'd sing "Mi Linda Esposa" to her. Their love is why I believe in love. I dedicate this song to you.
— Gabriel Tenorio of Los Angeles: "Beloved lover" for "mailob." We met at a party in Boyle Heights and I busted out a CD with Roberto Carlos in it and that blew her away from her. We've been together for like 15 years or something now.
— Odette S. From Atlanta: Dan and I met in Biology 1108 my freshman year of college. We were lab partners and even though our timing was off the first year of knowing each other and being friends, it ended up working out in the end. We will celebrate 10 years of marriage this April! I want to dedicate "I want to die in your poison" by Alejandro Sanz.
— Rene from McAllen, Texas: I dedicate "Cruisin' to the Park" by Durand Jones & the Indications to my dear Karla. Let's get outta here. Leave your worries behind. Rene.
— Valeria from Los Angeles: I want to dedicateAngel Baby" from Rosie and The Originals to all of my friends especially Mayra and Su Jin ♡.
— Roberto in El Paso: Want to dedicate the Fuzz's "I Love You for All Seasons" Uncle Sally. Thank you for also believing in my dreams.
— Andrea Flores in Los Angeles: "Wasted Days and Wasted Nights." Dedicated to my mom, Marina, who taught me how to sing and dance, and who only told me six months ago that her mom was friends with Freddy Fender. 😂
— Laura Martinez, a Mexican from Washington Heights: I would like to dedicate "The Farsante" by Juan Gabriel to my (non-Mexican) ex.
— Cuitlahuac from Austin: I'm dedicated "And You Came" by Banda El Recodo to the love of my life, Elizabeth, who I met in La Grulla, Texas, (Puro 956 cuh!) and while we could put together a whole playlist of love songs we love together, can you please play this one? Thanks!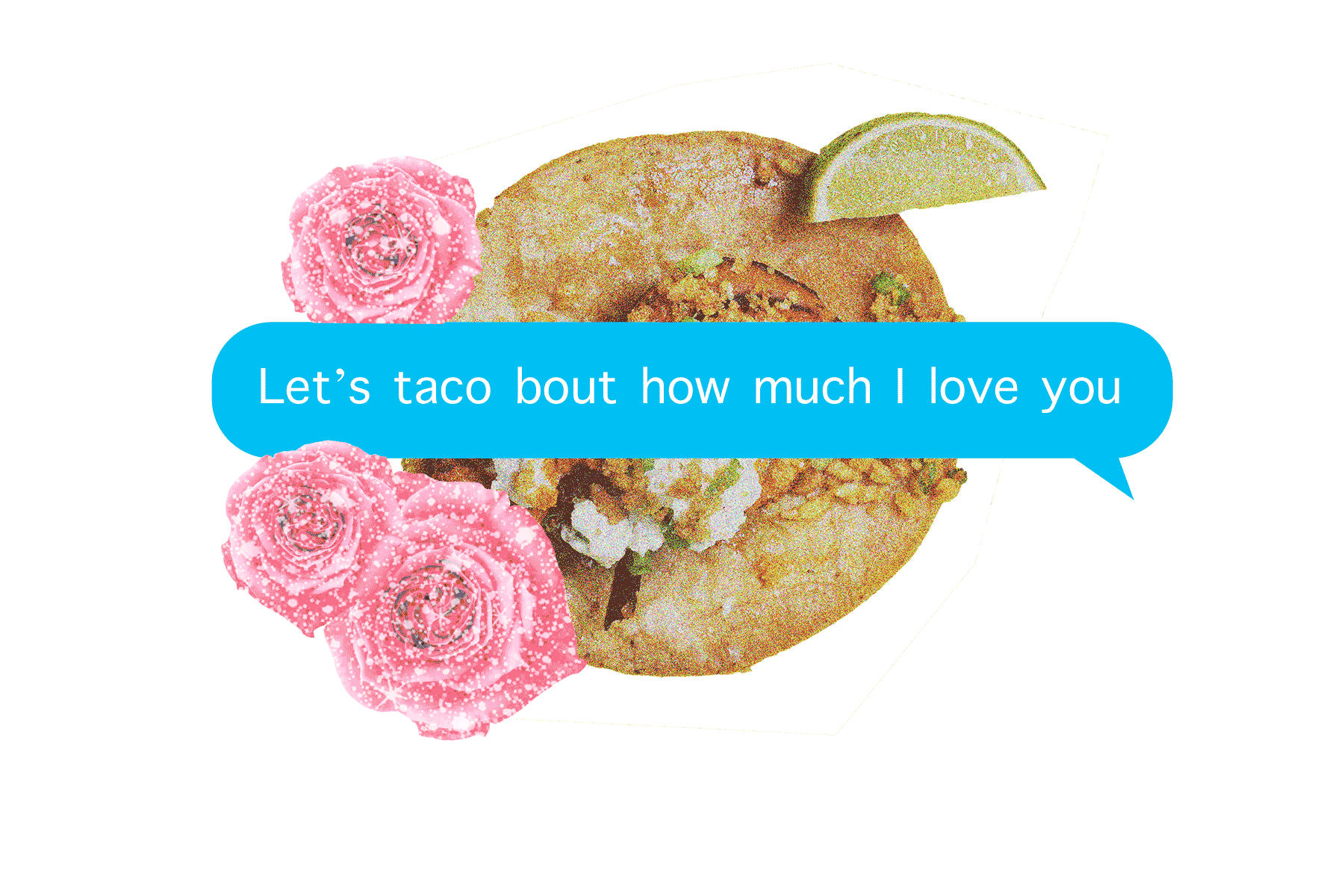 — Edgar N. from Baldwin Park: Shazia, from late night taco runs to late night drives to put the twins to sleep, there is no one else I would want to share this journey with. I look forward to seeing our love story evolve and grow as only we know how I love you. Happy Valentine's Day! I want to dedicate "For Obvious Reasons" by La Maquinaria Norteña.
And that's all the time we have for this episode! Thank you to all the lovers out there who chimed in with their messages of good love. Like what you heard? You can find our spotify playlists below.
This is DJ Taquero Mucho signing off and reminding y'all that they let themselves be loved!