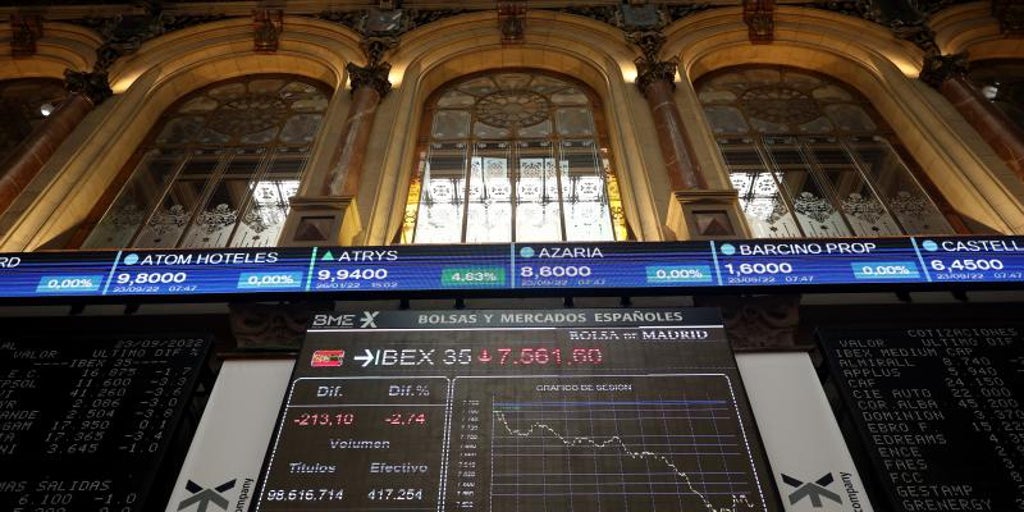 A forgettable week in IBEX 35, which closed this Friday down 2.46% at 7,583.5 points. They haven't seen each other since November 2020, Throughout the week, Selective has accumulated a deficit of more than 5% due to recession fears (an increasingly plausible scenario in the eyes of investors) and the Federal Reserve's new twist, which again raised interest rates by 0.75%. . The door to the future widens.
All this, despite the fact that the morning brought unexpected news: Spain's GDP grew by 1.5% in the second quarter, that is, four tenths more than expected, although it fell 0.2% in the first three months of the year. , all selective, except Fluidra which increased by 2.64% and Siemens Games which closed flat, showed significant decline, highlighting Grifols (-7.86%), Repsol (-5.33%), IAG (-4.17%), Melia (-3.98%), Inditex (-3.84%) and Solaria (-3,53%),
Major European cities have behaved similarly, such as Frankfurt, which fell 1.97%, Paris 2.28%, Milan 3.36% on the eve of decisive elections, London 1.97% and Lisbon 3.37%. In parallel, the Eurostocks 50 index, made up of the 50 European companies with the largest market capitalization, fell 2.29% in Friday's session.
On the risk of a recession looming large over the markets, global market strategist at investment platform eToro Ben Laidler warned that it was "rising ahead of the Fed meeting." In particular, he said that The New York Fed Recession Probability Index is at 25% Whereas the 10-2 year yield curve has been inverted for two months." Something similar is happening with another similar indicator from the Atlanta Fed, Nowcast GDP, which is already in the first and second quarters of the year. We are facing a 'cyclical' recession, generally the smallest and least harmful variety of this rare species, warned this analyst, who believes that »we' U' will see a gradual recovery of the market.
For its part, the euro is exchanged at $0.9722′, while the Spanish risk premium was at 111 basis points, with the ten-year bond required interest at 3.169%.