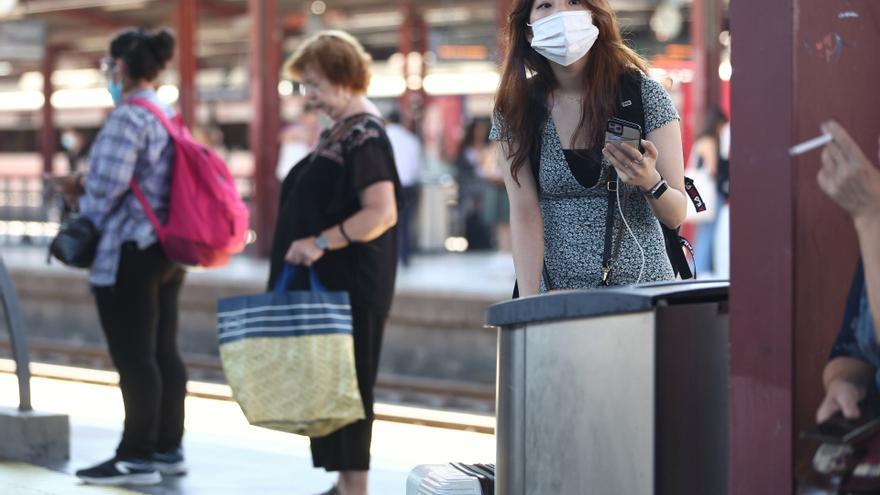 The Ministry of Health has promised this Wednesday to take the removal of the mask on public transport to the meeting of experts of the Presentation on Alert and Preparedness and Response PlansAccording to sources present at the meeting.
This has been transferred by the department he directs Carolina Darias to the councilors of the Autonomous Communities during the meeting of the Interterritorial Council of the National Health System (CISNS) after several regional governments have demanded the review of its mandatory use in public transport.
Darias has indicated that there is still no proposal from the experts of the Report on Alerts and Preparedness and Response Plans on the use of masks on public transport, and that, therefore, they are not yet in "conditions" to assess the removal of its obligation.
The Madrid's community has demanded at Wednesday's meeting between the Ministry and the Communities that a technical review "as soon as possible" of the use of masks, "especially in public transport", to approve their withdrawal, as confirmed by sources from the Ministry of Health to Europa Press.
The issue of masks was not on the agenda of the meeting, in which it was planned to analyze the evolution of the covid-19 pandemic and the monkeypox vaccination, but once it was raised, several communities have expressed the need for a review.
In response to this request, the Ministry has undertaken to take this issue to the Alerts Report, pending confirmation of the date of celebration. This Thursday the Public Health Commission will meet.
defenders of the measure
Precisely, this Tuesday the Minister of Health of the Community of Madrid, Enrique Ruiz Escudero, during his speech at a socio-health breakfast organized by Europa Press, once again asked the Ministry of Health go one step further in the end of the mandatory use of masks on public transport.
Also the mayor of the capital, José Luis Martínez-Almeida, was in favor this Tuesday of the revision of this measure. "I am in favor of removing the mask on public transport. In principle, and except for what the health authorities say, there is a debate about it and I think there are many places where the mask is not mandatory and there has been no increase in incidence, "said the councilor.
Related news
Likewise, the public transport sector, represented by the Association of Urban and Metropolitan Public Transport (ATUC), requested that the mandatory nature of the mask be eliminated in the metro, train, bus and other means of collective transport, limiting the measure to a recommendation.
For his part, Darias has refused to review the mandatory use of masks on public transport without having the expert opinion.