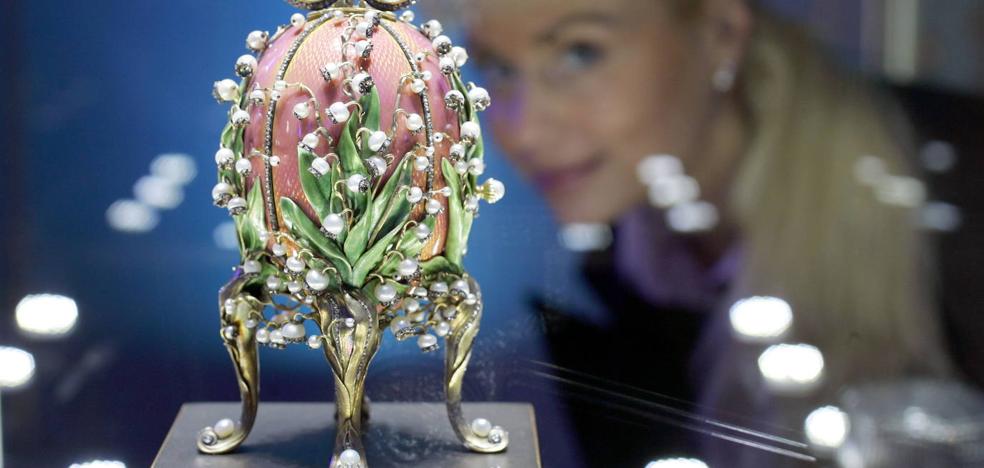 Made explicitly for Russian kings in their day, they are highly prized and of great value.
German investigators have discovered several art objects and gems of dubious origin and possibly high value during a search of the properties of Russian oligarch Alisher Usmanov next to the exclusive Bavarian Lake of Tegernsee last Wednesday. Four of those specific Easter eggs are attributed to the Tsar's jeweler Peter Karl Faberge, as revealed by Spiegel Online. Officials are now checking their veracity. Faberge eggs were made by a goldsmith of the same name for the Russian royal house in the late 19th century. They are shaped like an Easter egg, close to the size of an ostrich, and are richly decorated with gold, diamonds and pearls. First commissioned by Tsar Alexander III at the Faberge Jewelery and Workshop in St.
Its value is difficult to calculate. The last time it was put up for sale publicly, the so-called "Rothschild's Egg", was auctioned by Christie's in 2007 for around €12.5 million. Most are on display in museums, but many fakes are also in circulation. Fabergé made a total of 52 royal eggs, 7 cup-sized eggs, and 4 custom-made eggs. The Kremlin keeps 10 of them. Some are in private collection and 6 are missing. Those who were allegedly possessed by the Russian oligarch have now appeared in one of their three residences in the German city of Rottach-Egern during a search by prosecutors and members of the Federal Criminal Investigation Office.
Usmanov is suspected by German authorities of tax fraud, money laundering and violating sanctions imposed by the West against Russia after the invasion of Ukraine. Very close to Russian President Vladimir Putin, and a figure on the list of European Union-sanctioned Russian citizens, he is being investigated for evading paying taxes in Germany, despite having regularly lived in the country since 2014. Usmanov fled in March, shortly after the start of the Russian invasion of Ukraine from Bavaria to Uzbekistan. His assets in the European Union, three villas and a luxury yacht, were confiscated for supporting the Putin regime, among other things. His luxurious residence in Bavaria is the property of the elite, but he cannot rent or sell it.