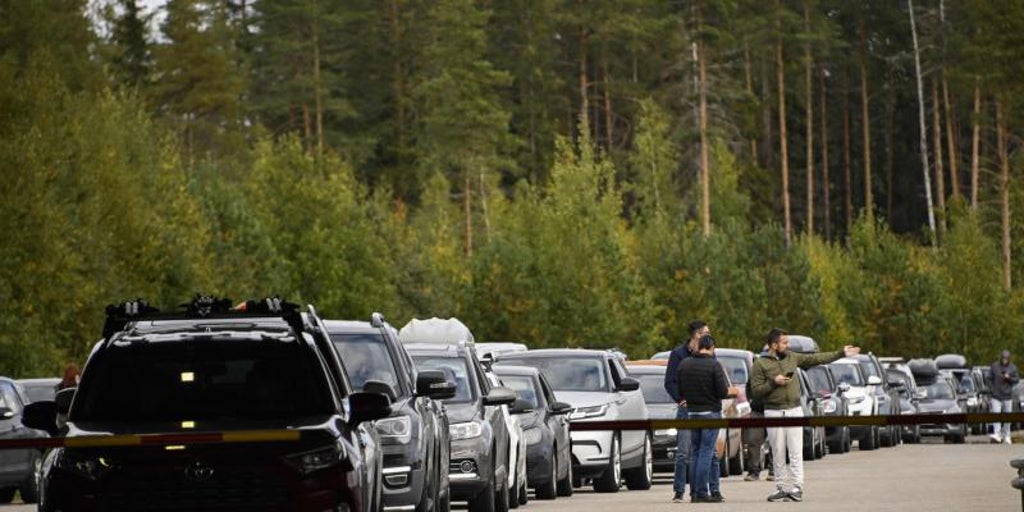 Some 6,000 Russians entered Finland on Thursdayaccording to Matti Pitkäniitty, head of the Border Guard's International Affairs Unit. The flow has doubled since Putin's mobilization announcement. The queues of cars were repeated yesterday at the Vaalimaa and Nuijamaa passes and the Helsinki Government announced that a committee made up of the president, the prime minister and the affected ministers has decided reduce to a tenth the granting of visas for the "serious damage that these entries cause to the international position of Finland". "Those who enter Finland now are few in relation to those who are leaving in total, they are only wealthy citizens with a Schengen visa," explains Ivan, a 35-year-old economist who has lived in Berlin since before the war, "if what you are looking for is deserting soldiers or young people fleeing forced recruitment, you have to go to the border of Kazakhstan«. He learns about this route from his 28-year-old cousin Igor, who has chosen this escape route and hopes to reach Berlin via the Balkans, perhaps in two or three months. Ivan is not afraid: "the worst thing that can happen here is that they ask me for my military documentation and because I'm away I could ask for a postponement." "By the time the deadline is met, there will be negotiations and the nightmare will end," he trusts in the end of the war, while he remains in contact with many Russians his age who are mostly looking for a way to escape.
The Kremlin spokesman, Dmitri Peskov, yesterday interpreted this exodus by saying that "somehow, it can be understood that in the first hours after the announcement, and even the first day after, there was a hysterical and extremely emotional reactionbecause there really wasn't enough information."
Situation "under partial control" in Kazakhstan

The departure of Russians from the country affects neighboring former Soviet republics. Kazakhstan yesterday confirmed the increase in entries in the last 48 hours. "The situation is under partial control", reported the border guard in Astana, "at least the traffic is not as intense as in Armenian and Georgianin the South Caucasus. These destinations are especially popular because Russians do not need a visa there. The Kazakhstan Foreign Ministry has complained in a statement that "the stability of our state, under the turbulent conditions around it, is being seriously tested" and the Armenian Prime Minister, Nikol Pashinyan, has warned that the influx of refugees is having serious consequences on rental prices and home ownership. "We believe that our citizens show wisdom and remain faithful to the traditions of hospitality", he said, with the "hope that the country's infrastructure and services sector will be able to cope with the tasks imposed by immigration".
The 23-year-old son of a contractor and computer science student, who does not give his name to avoid reprisals, has been very lucky. He managed to leave for Finland last Thursday and yesterday he flew to Paris, to take refuge in a residence that his parents own in the south of France. I feel lucky, but I fear for my family, who have stayed in Russia. I am also concerned about the situation of many other young Russians my age, those who stay and those who manage to leave but have nowhere to go," he says, "somehow the Russian people had accepted a tacit pact with the Kremlin , we could continue with our lives while they acted freely on the international stage, but Putin has broken that pact and there now everything is chaos ».
"They are lying to us"

"We are concerned about the safety and health of many Russian citizens who are leaving the country in any way," says Irina Hofmann, a Russian married to a German and a resident of Munich. In her environment, there is a lot of fear. Many of her friends on her social networks report that they have already received the call. They go to her in search of information about the possibility of requesting asylum in this country. «More than a partial mobilization, it looks like a general mobilization, because there are hardly any exceptions', he says, 'and many Russians are now trying to leave the country as quickly as possible.' "I happen to have a category B2 military ID card, so I will be drafted last, it will give me time to get out," writes his friend Alexander, 22, a video editor, who has planned his trip through Mongolia, «but most of those I know have already received the call, they do not seem like the 1% but many more, they are lying to us and everyone is afraid, both men and women».
«I'm afraid they'll approach me on the street, I don't leave the house. I still don't know what to do. I have no money to leave the country. I don't think they can give me a humanitarian visa either," Kirill, a 30-year-old artist, sees the impasse. "My family has fled to Montenegro, but I have to stay in Moscow for work, we can't be without income," explains Yegor, a 24-year-old YouTube producer, "but obviously I'll have to find a way to get away from here as soon as possible." possible".
"The danger of being caught on the street and taken to the ranks, or the risk of being served with the citation and not being able to escape from the bureaucratic apparatus, because they record and update your data, is very high," confirms Konstantin, correspondent in Berlin from various Russian media, 35 years old, «the Government has frozen society with the announcement of the mobilization and there is great tension. Most likely, there will be some insignificant event that triggers an anti-war demonstration or a wave of protests, like in Iran, "he predicts.