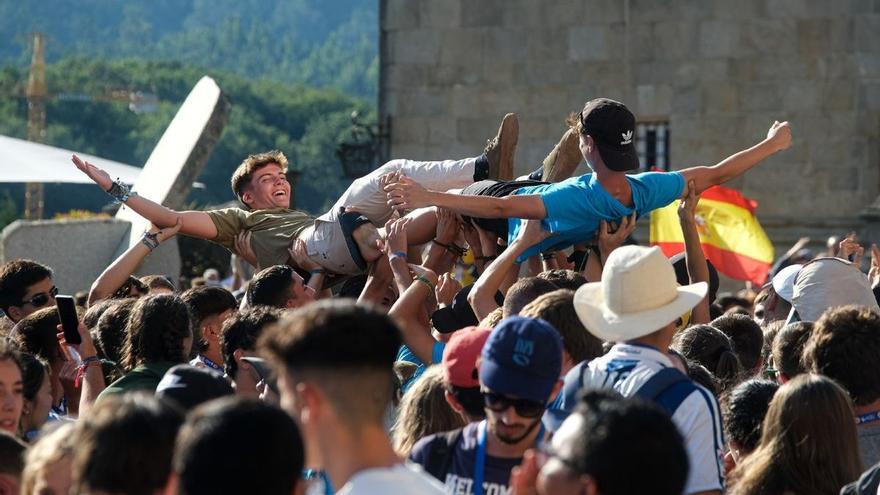 santiago de compostela, holy places of pilgrimage, these days are 'invaded' by waves of people who come after completing the path. However, they are not always well received by the city's residents: the crowds passing through the Galician capital these days have caused hatred among many residents, who see how many pilgrims cause inconvenience due to obstacles and rude behavior. . The city receives more than 3,000 pilgrims every day—in total, it distributed more than 50,000 manure in August—but this week 12,000 came in one go; 12,000 tourists who have filled the glass of tolerance and welcome for many of Santiago's people.
It coincides with the arrival of participants in the European Youth Pilgrimage (PEJ) organized by the Catholic Church, who, after departing more than 10 different routes, meet in Santiago de Compostela between 3 and 7 August. "This is a great event that we have in Spain after the pandemic at the church level, moment of hope and happiness", said Raul Tinajero, director of the Secretariat of the Episcopal Submission of Youth and Children, at a news conference last Friday.
But some neighbors see waves of people blocking roads and highways, waving crosses and flags SpainBetween screams and songs. As more or less the same images are repeated every year, voices arise that give rise to the following debates: Should we rethink Santiago's tourism model?
lack of rest
Among the most frequent complaints is the fact that pilgrims enter the city via Rua de San Pedro or Porta Faixera, the most popular ways to reach Plaza del Obradoiro and the Cathedral of Santiago. Earlier, pilgrims used to travel in small groups and without hassle. Now, the neighbors condemn, They enter groups of hundreds, even thousands, of people chanting at the top of their lungs early in the morning.,
There are those who complain that they cycle the symbolic streets of Santiago and at full speed, even on roads like Roa de San Pedro, where doing so is prohibited.
Once the pilgrims arrive in Santiago, neighbors say, it appears that "the city is theirs." "They move around in large groups, blocking roads and highways without warning. There is neither cars nor pedestrians anywhere to move," he says, wondering if there is any police control. No, which sets some limits.
Huge piles of trash and backpacks Possible damage to World Heritage monuments in or in the Plaza del Obradoiro are other reasons for perceived concern by the people of Santiago, as evidenced by photos published on social networks Several horses tied to the gate of the Church of Santa Maria de SalomeA 12th-century building that may have been affected by animals being pulled over the gates.
maintain coexistence
"We should not allow flags, shouts and occupy all public places in Santiago nor should we allow Prevent coexistence, peace and normal life in Compostela, its neighborhood and its parish. People who live here permanently have rights that must be respected and guaranteed. And if a huge pilgrimage comes… that's Monte do Gojo…", condemns the Galleras Platform Neighborhood Association.
Other groups, such as A Zuntanta and business associations in the same region, put up a giant poster with A Decolog of Good Practices There are simple rules for pilgrims such as no shouting, no jumping traffic lights or throwing garbage on the ground.
Facing pressure from the people of Compostela, the city's mayor, José Sánchez Bugallo (PSdeG), had to pull out after the governing board acknowledged that the influx of pilgrims could cause inconvenience to neighbors or leave them "a bit overwhelmed". can feel. "But still they Called for a "welcome effort" to make visitors feel comfortable, Of course, he also emphasized that the pilgrims should respond with civility and "the best possible behavior".
President of Xunta accused of ideological reasons
For his part, Xunta de Galicia president Alfonso Rueda has dismissed criticism from Santiago residents, both inside and outside the network. For questions from the press after the weekly meeting of his cabinet alleged that the complaints from these neighbors are due to "ideological positions".,
The debate over the tourism model is not new and is in all political positions, but the president has linked complaints with European youth pilgrimage, stating that if young people Some Compostelas are upset as they carry Spanish flags and sing Catholic songs,
"What is heard these days not to agree is that some people come as pilgrims to Santiago in very significant numbers during specific days It is mixing ideology with objective statistics. Depending on who comes, their attitude is judged in one way or another," alleged Rueda.
Related news
In both Jacobean years, between 2004 and 2018, the number of pilgrims to Santiago increased by 84%. Even holy this year, as the Vatican extended the jubilee by 12 months in 2021 due to mobility limitations due to COVID, the number continues to grow. If in the whole of 2021, 178,913 composts were distributed, then in 2022 alone so far, 198,000 have already been distributed.
Therefore, scattered groups of pilgrims are now great tides that not only occupy the city's old town, but extended to more remote residential areas that are not used for 'tourism', Social networks expedite requests for public administration to reconsider The city's tourism model and even limiting the number of pilgrims who can come to Santiago to guarantee the quality of life of its residents.