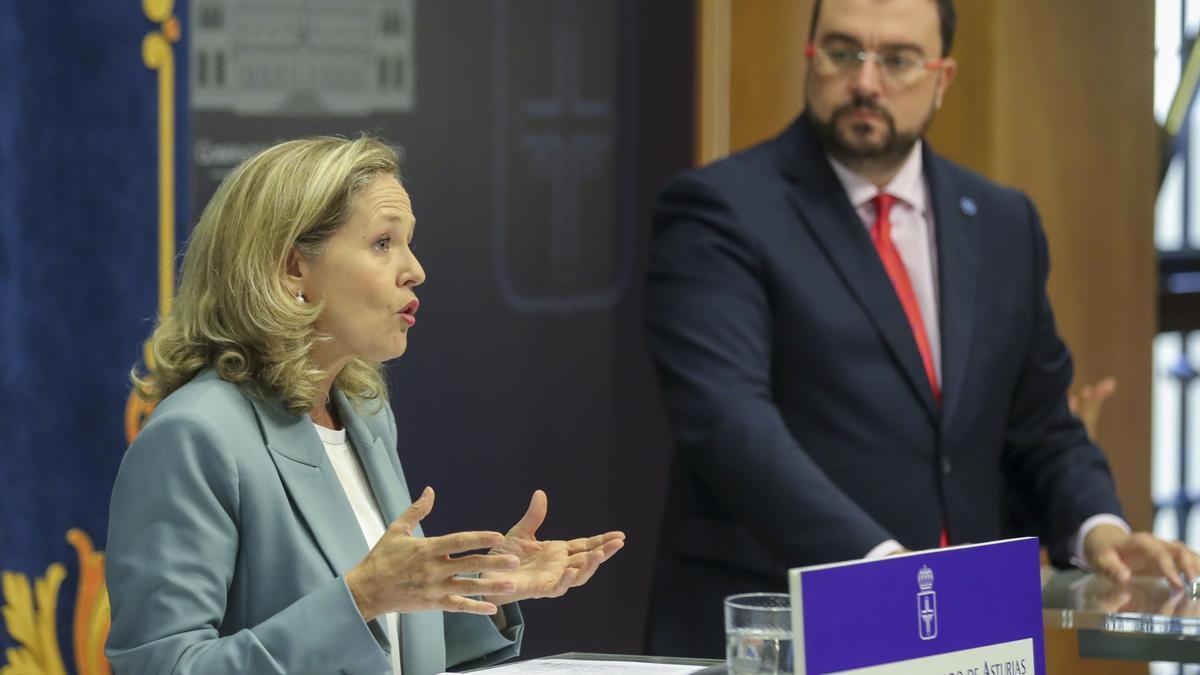 The First Vice President and Minister of Economic Affairs and Digital Transformation, nadia calvinhas urged this Friday the leader of the PP, Alberto Nunez Feijooto "put a little order" in the fiscal race initiated by communities governed by his party on account of estate tax because it is "very destructive".
for the minister, it is an "irresponsible, incoherent and destructive dynamic for the country as a whole" and for this reason it is necessary to make a call "for someone to put order in the Popular Party and to stop or reverse this race to the bottom, which also does not contribute at all to progressivity and justice in the tax system", has expressed Calviño in an interview with the Television of the Principality of Asturias.
In a subsequent press conference offered in Oviedo together with the President of the Principality, Adrián Barbón, Calviño insisted on the need for the regional leaders of the PP who have proposed the abolition of the wealth tax "rectify" because this means "dismantling the welfare state".
In this regard, he pointed out that Andalusiawhose government has decided to suppress it as Madrid already doesIt is the second autonomy from the tail in health spending per inhabitant, only behind the community governed by Isabel Diaz Ayusowhile Murcia, where its Executive has announced that it is going to study the suppression, It has "a high debt problem" which shows a lack of fiscal responsibility.
Asked about the temporary tax for great fortunes that the Government is preparing for 2023, Calviño has limited himself to pointing out that technical work is being done for its definition, always with the aim of "continuing to work on a progressive and fair tax system."
"At this time the most important thing is that they reverse these announcements, to rectify the political leaders who are proposing to dismantle the welfare state," Calviño has expressed, who has wondered if "there is someone in charge" in the PP, because it is "tremendously irresponsible" to undertake "a very destructive career that impoverishes us all."
Related news
The minister has insisted that "It is time to put our shoulders to the wheel and for those who can contribute more, which in this case are clearly the great fortunes."
For Calviño, this is the moment "of that fiscal harmonization that is talked about so much, but that never seems to arrive" because it requires a consensus that right now does not seem to exist.