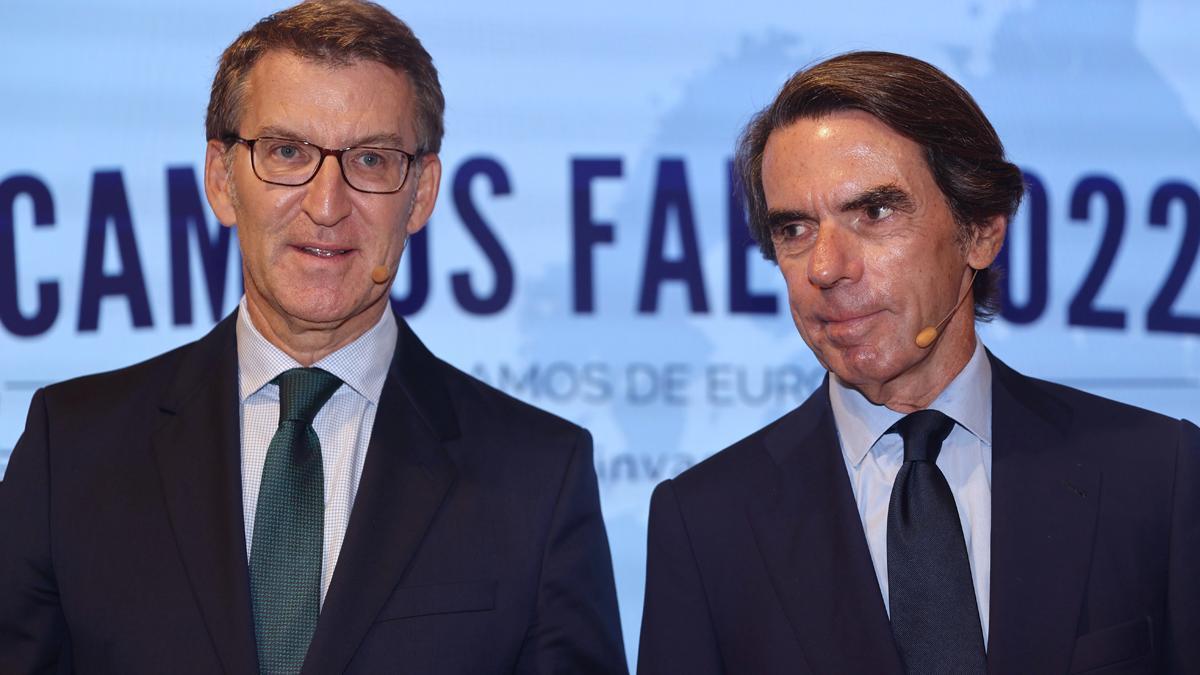 The ex-president José María Aznar supported, without nuance, the path to La Moncloa by Alberto Núñez Feijóo in the colloquium that both shared in Madrid at the closing of the FAES Campus, the first since the Galician chaired the formation (they only coincided on the 25th anniversary of Miguel Ángel's death in Ermua last July). "We believe that you meet all the conditions to be the next Prime Minister. We are convinced of this and we will do our best to help you, "he settled. At the Seville congress in which the definitive departure of Pablo Casado (disciple of the former president) was confirmed, Aznar intervened through a video because he had been infected with covid. Yes, Mariano Rajoy was in the front row.
The ex-president of the Government and the aspiring to become it discussed, fundamentally, foreign policy and the consequences of the war in Ukraine. "Putin has broken the rules of the game"Feijóo launched, agreeing with Aznar that in Spain foreign and defense policy must be strengthened. The two criticized actions of the Government, although the Galician focused especially on the division of the coalition partners.
"We have to strengthen our relationship in NATO and with the United States. I wish the Government had no doubts about it, but unfortunately it does. Holding a summit in Madrid when a part of the government is against it had not happened in a democracy", Feijóo stressed.
"The carnivorous and disoriented left"
Related news
In the middle of the fiscal debate, the leader of the PP once again criticized the tax on large fortunes advanced by the Minister of Finance that would come into force in January 2023. "The problem with the Government is that it does not want to lower taxes on average incomes and low. Now he tries to distract attention with minority taxes". Aznar raised the tone speaking of "the carnivorous left which consists in seeing how I eat taxes for you".
Feijóo defended the latest movements of the autonomous communities of the PP, Madrid and Andalusia (Murcia has also joined) stating that "That tax competition is extraordinarily healthy" and defending the elimination of the Wealth Tax "which does not exist in any European country" and that in Galicia, as in most autonomous communities, does continue in force.