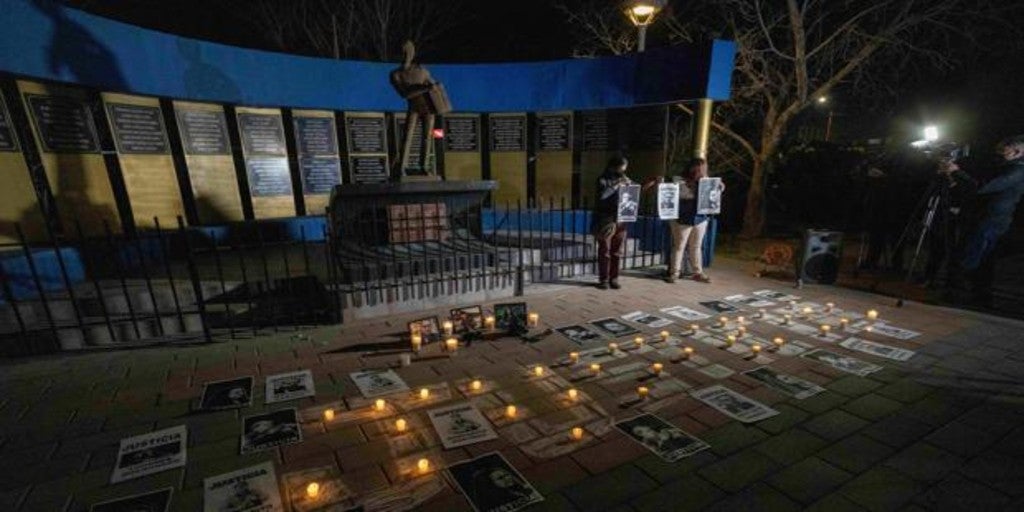 Updated:
Save

Violence against the press in Mexico claimed a new victim: the journalist Anthony of the Cross died in a Indignation in which his wife and daughter were injured, bringing the total number of journalists killed this year to 12 in the country.
De la Cruz, a journalist for the regional newspaper Expreso, was attacked on Wednesday morning as he left his home in Ciudad Victoria (northeast Tamaulipas state), according to a statement from the local prosecutor's office.
"These crimes will not go unpunished," Jesús Ramírez, a spokesman for leftist President Andrés Manuel López Obrador, warned on Twitter.
Condemning the murder, the governor of Tamaulipas, Francisco Cabeza de Vaca, stated that the doctors "are doing a careful job to save the life" of the couple's daughter, whose age he did not specify.
The Prosecutor's Office, meanwhile, said that it is investigating the case as an alleged attack on freedom of expression.
De la Cruz covered topics related to the countryside and the weather, but on his social networks he used to denounce alleged acts of political corruption.
«The main suspects are in the state government (…). I have no doubt that an important responsibility falls on these gentlemen, "Gustavo Cárdenas, a local deputy for the minority Citizen Movement, of which the journalist was a spokesman, denounced to the press.
"We strongly condemn his murder, I have asked the head of the Prosecutor's Office for a commitment to clarify the facts and that this cowardly crime does not go unpunished," said the governor.
The murder of De la Cruz, who had been practicing journalism for 15 years, was also condemned by Reporters Without Borders, which called for a "prompt investigation without ruling out" that the motive was his work as a reporter.
"The prevailing impunity in murders against journalists has become an effective weapon for criminals," Jorge Canahuati, president of the Inter-American Press Association (IAPA), denounced in a statement.
Carlos Jornet, president of the IAPA's Committee on Freedom of the Press and Information, urged the Mexican government to allocate more resources to institutions that seek justice in the face of "the ineffectiveness of Mexican prosecutors and judges."
"Faced with this new act of violence, the Expreso-La Razón editorial group demands that the authorities at all levels do justice," said the newspaper, which has suffered several attacks in recent years.
Another of its journalists, Héctor González, was beaten to death on May 29, 2018.
De la Cruz was highly esteemed among his colleagues, who considered him a "very calm" man who "had no problems with anyone," according to testimony from a local reporter who asked not to be identified.
Colleagues of De la Cruz and legislator Cárdenas said they did not know if the journalist had received threats.
The last note he published was about the high temperatures that were recorded on Tuesday in Tamaulipas.
That state is the scene of continuous violent actions by drug cartels, often in collusion with civil and police authorities. According to civil organizations, these gangs have sought to silence the press through attacks, with Expreso being one of the most affected.
In May 2012, a car bomb exploded in front of the newspaper's headquarters, causing material damage, while in December 2018 a human head was abandoned in front of its facilities.
According to accounts from organizations that defend freedom of expression, De la Cruz is the twelfth journalist killed in 2022 in Mexico, considered one of the most dangerous countries for communicators.
Yessenia Mollinedo, Sheila García, Luis Enrique Ramírez, Armando Linares, Juan Carlos Muñiz, Heber López, Lourdes Maldonado, Margarito Martínez, Roberto Toledo, José Luis Gamboa and Jorge Luis Camero were previously killed.
This year is the deadliest for the press along with 2017, when 12 reporters were killed.
Prior to De la Cruz's crime, the Mexican government recorded nine murders since last January for which there are 26 detainees. Of these, nine are already formally charged.
According to RSF, some 150 journalists have been killed in Mexico since 2000. Most of these cases remain unpunished.